Welcome to the world of Merlin 
'Magic is just science we haven't figured out yet.' Meinir, sorcerer and mother of Merlin
Rhuddem writes about Merlin. Ruby writes about Shakespeare
Rhuddem Gwelin and Ruby Jand
Two authors in one head
Rhuddem Gwelin has been addicted to Merlin and the legend of Camelot much of her life but has only recently begun writing novels where Merlin is the main character and lives several lives throughout the centuries. The novels are based on documented historical events but have a touch of magic in them.  The three that have been written so far (in order of writing and publishing):
Protecting Cheesyfee – the Merlin chronicles volume 4. This one came first because Rhuddem asked herself what Merlin would do if he lived in our time. The answer became Protecting Cheesyfee but rather soon Rhuddem realised that she would need to go back to the beginning.
The Nature of Things – the Merlin chronicles volume 1 –  The man, the myth, the magic
The Wrathful Traveller – the Merlin chronicles volume 2      'Tantum religio potuit suadere malrum!' Only religion can lead to such evil – Merlin during the Crusades.
An Isle Full of Noises – the Merlin chronicles volume 3 will hopefully be published in 2018. There will also be a Volume 5 which will take place sometime in the future.
Rhuddem gives talks on 'Merlin – the man, the myth, the magic' and 'Merlin and the gods' at bookshops and sci fi/fantasy cons.
Rhuddem's alter ego Ruby Jand has been addicted to Shakespeare for about ten years. This addiction has led to the book Shakespeare calling – the book.
Why Shakespeare?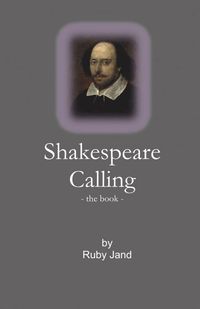 Who is this Hamlet?
Is Lady Macbeth really evil? Can Caliban really be a twitchy speeded Goth freak? What's so interesting about Lady Blanche, Lucius, Queen Margaret, Cassius, Paulina, Emilia, Celia…? These and many more questions sent the new Bardolator Ruby Jand on a personal journey of exploration into the plays of Shakespeare and the search for an explanation of what a 450-year-old playwright from Stratford upon Avon means to us today.
This is a book to be read by scholars, students, theatre enthusiasts and anybody who has ever wondered, "Why Shakespeare?"
Ruby gives talks on 'Why Shakespeare?', 'Teaching Shakespeare', 'Shakespeare and magic' etc at libraries, schools, teachers' conferences, bookshops etc. most often in English but sometimes in Swedish.
Ruby/Rhuddem has taught English and history at the adult community school in Sundbyberg, Sweden where she lives.
Contact:
rubyjandshakespearecalling@gmail.com